Many businesses choose going green at work
Karen Maserjian Shan, For the Poughkeepsie Journal 12:14 p.m. EST December 10, 2015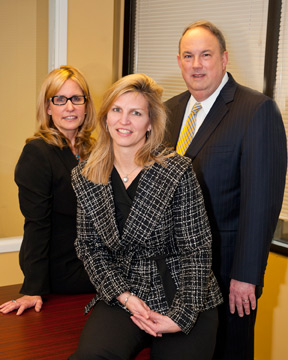 Business partners Pamela Kelly-Day, left to right, Kathryn Seckler and Wayne Day of Day Seckler, a Poughkeepsie-based accounting firm that also provides tax and audit services, practice a green sensibility by embracing a paperless office model both in-house and with clients that favor the option.(Photo: Courtesy photo)
Since its founding in 2008, Day Seckler has worked toward being a paperless operation. That's a worthy objective for the document-driven accounting firm with tax and audit businesses. "All of our work is in the cloud," said Kathryn Seckler, a partner of the Fishkill-based company. "We're able to work together on similar projects without having to print things. We're trying to avoid the printer."
Smart move. The EPA reports the typical office worker produces about 2 pounds of paper and paperboard products, daily. More troubling is that 90 percent of the total is waste, including printed documents with mistakes, poor quality photocopies, old memos and reports, periodicals and such.
Seckler said Day Seckler's paperless directive goes beyond in-house workings to business conducted with its accounting, tax and audit clients, where, for instance, clients can access their account documents online and receive their tax returns electronically.
"In the past three years, we used to have three or four binders filled with paper," Seckler said of client-related audit work. "Now it's all paperless."
In 2013, Day Seckler was recognized by the Dutchess County Regional Chamber of Commerce for its efforts to reduce consumption with the Headliner Award for Green-Friendly Organization. Now, not only has the company continued to decrease its paper usage along with the associated printing costs and energy use, but, through it, it's increased convenience for its clients.
"We're trying to keep up with the profession," Seckler said. "People want things very quickly. If they're at the bank and looking at a mortgage, they can access their accounts online; the documents are right there. It can be a Saturday and they don't have to wait until Monday."
Karen Maserjian Shan is a freelance writer: mkshan@optonline.net